I almost went with a Friday the 13th post, just to be contrary--but I try to only be contrary with my husband., so I'm talking TV couples today!
In no particular order these are some of my faves:
Veronica Mars and Logan Echolls
Veronica Mars


I was so surprised when they first kissed. I totally did not see it coming. And then I kept waiting for it to be a trick he was playing--because he was so very, very bad. But turns out, he really loved her. And in the Season Four in my head (since the show got axed in three), they get back together. Don't try and change my mind either.
Jack Devereux and Jennifer Horton
Days of Our Lives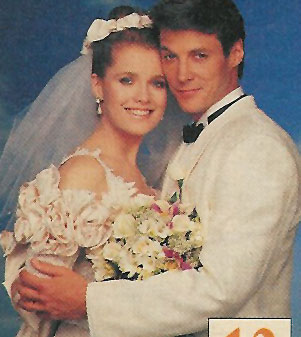 Maybe I just like couples that argue all the time. Jack and Jenn were my fave couple in the late 80's early 90's...back when I worked nights and could watch soaps during the day. I loved the fact that they were so opposite and so obviously wrong for each other. I got a little weary of all the strange adventures on deserted islands and wilderness scenes...but whenever he accidentally let his vulnerable side show my heart would break. I really love their chemistry, but I don't think they are on the show anymore.
Buffy and Angel
Buffy the Vampire Slayer
*sigh*
I was never a Spike fan. Sorry fans. Angel and Buffy just...well...he's another one who breaks my heart. He was so much more tortured. I wonder if she's done being cookie dough yet.
So...who are some of your favorite TV couples? (you probably have more than me, I don't watch much tv)